Radway Village Hall is a registered charity. The hall is owned by the village and it is managed by a group of Trustees. It is centrally located, providing easy access for all villagers. The hall is situated between Banbury and Warwick.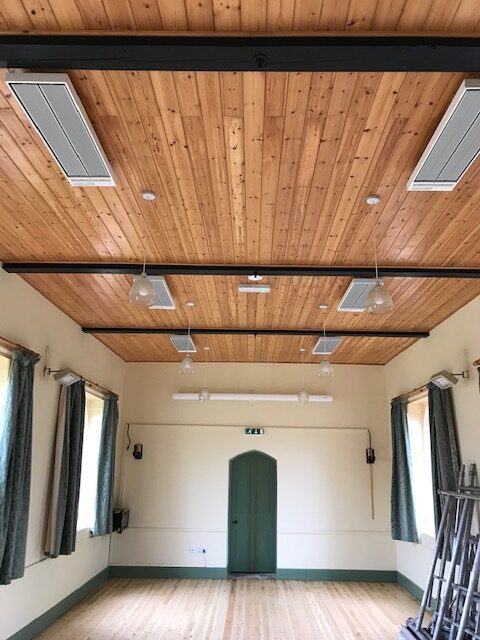 Following refurbishment around 2001, there has been on-going fundraising and continued support from the Parish Council to maintain the hall. The hall is popular and it is used by community groups and clubs, as well as being booked regularly for other activities.

Mike Trotman, a Trustee for Radway Village Hall, takes up the story: "Previously, we were using coin fed electricity meters, with heaters on the walls. The heating system was insufficient for our hall.

"We were not able to switch the heating on in advance, so it was always cold when customers arrived. It was also inconvenient – having to have £1 coins available.

"We decided to install a new heating system and we shopped around. Having found ARC Thermal, we discovered that they offered a good price and they were able to provide an end-to-end service, which was what we wanted.

"Their products are good and we are using 4 x 1.2kW and 2 x 2kW. We now have a much improved, more economical and responsive heating system, in comparison to the one that we had previously."
Solid stone walls
Radway Village Hall has solid stone walls, single glazed windows and a wooden ceiling. ARC Thermal installed the infrared units in the ceiling, between a set of beams. The installation is aesthetically pleasing and symetrical.
ARC Thermal products
EZ2000 – Radiant ceiling heaters. The EZ model is intended for total and supplementary heating as well as protection against cold draughts from windows. Radiant heaters provide a soft, pleasant heat. Individual comfort can be created with spot and zone heating. No moving parts mean a silent system that does not cause air movements. A hygienic indoor climate is created where the spread of dust, bacteria or odours is reduced.

Radiant heaters require a minimum of maintenance. Ceiling mounting leaves the walls free and increases safety. They give instant heat and the room temperature can be reduced with maintained comfort.
Programmable thermostat.
A Radio-controlled thermostat avoids complex elevation and plaster work for cable routing and allow easy installation of heaters.
The receivers are controlled with the ET-14A radio thermostat, which can control up to 12 LAVA-F (ET-111A) radio receivers. The ET-14A has a programmable week program, frost protection function, manual mode and On/OFF function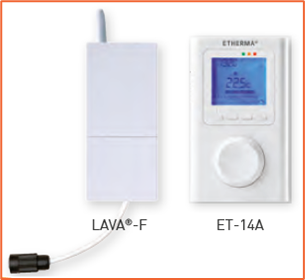 We love being able to programme it
"We love being able to programme it," concluded Mike Trotman, "to enable our village hall to be at a suitable temperature when customers arrive. ARC Thermal proved to be an excellent choice for Radway Village Hall."