The Committee was looking for an infrared village hall heating system which would warm the hall to a comfortable temperature in a relatively short time, to avoid heating the hall when it was not in use.
The high pitched roof had been a problem for the convection heaters as the warm air produced was lost into the roof space giving little immediate benefit to the occupants.
Using the infrared to equalize the temperature difference between the occupied zone and the ceiling can reduce heat loss by as much as 30% while making optimal use of the heat which develops when the infrared waves hit a thermal mass, such as the floor, walls and people.
The different rooms were treated as separate heating zones, each controlled by wireless programmable thermostats. Precise control of the heating saves operating costs and improves thermal comfort. The use of wireless controls avoided the need for new cable routes and simplified the installation process.
Solution
In the main hall eight 2kW medium-wave double-panel infrared heaters were suspended in two rows of four, approx. 3.5m above the floor and controlled by a wall mounted wireless thermostat.
The toilets were treated as one heating zone each with a long-wave 350W infrared panel controlled by a wireless programmable thermostat. In the large store room three long-wave infrared panels were used controlled with a hard-wired programmable thermostat on a frost protection setting.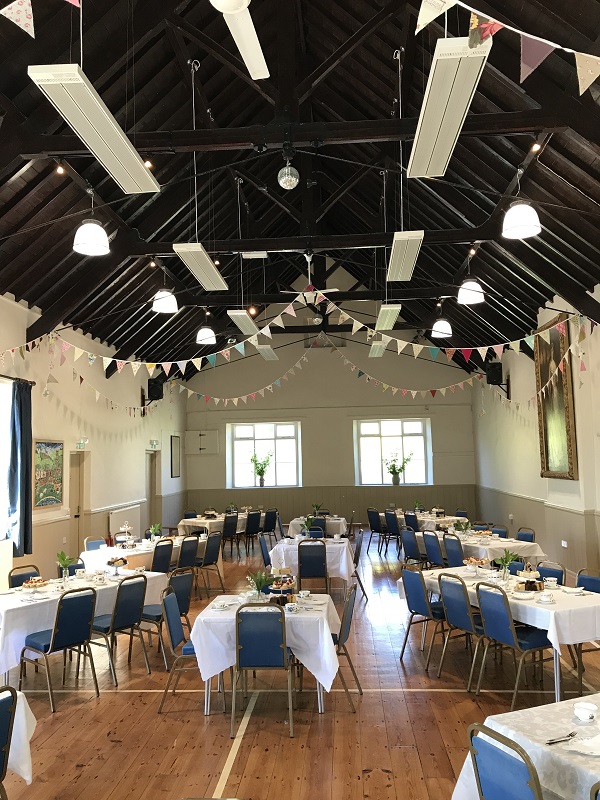 Download full story…